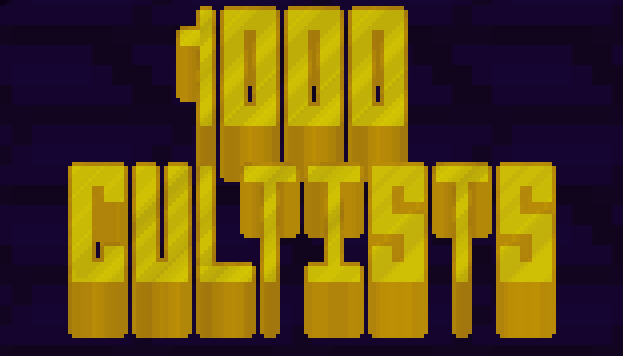 1000 Cultists
A downloadable pile of dudes for Windows
Navigate an army of a thousand dudes in masks and grey hoods through a deadly dungeon!
The game is about 10-20 minutes long, so why not give it a shot?

Please do leave a comment on the page, that is greatly appreciated :)

Controls (menu):
Space/enter - select
W - up
S - down
Gameplay controls are not listed as they are explained pretty well in-game.
I also must note that there is a bug: On some computers the window acts oddly and shows only the top-left corner of the game. However that can usually be fixed by switching to the full-screen mode. (press f4 to do that or just set it in the settings)


This game was made for the CartridgeJam3

Install instructions
1)download zip
2)extract zip into a folder
3)run the .exe file
Comments
Log in with itch.io to leave a comment.
My cart! I love this direction, will definitely check this out the second I'm done submitting my game!
Oh, so you are the genius behind the cult!? :D
That be lovely!
Oh, and by the way, I do plan on expanding the concept and eventually selling the game. Will you, as the designer of the cartridge, allow me to?